It is expected that the anime production committee will have Ao Ashi renewed for a second season depending on its success in 2022.
The season 2 of the anime TV series Ao Ashi will pick up the story of high school soccer player Ashito Aoi who joins the A team following the Esperion B against Tokyo Musashino. But when will Ao Ashi season 2 be released?
The studio and the main team that will make Ao Ashi season 2 have not been announced yet.
For the first season, the anime project was produced by the animation studio Production I.G., which is best known lately for making Psycho-Pass, Moriarty the Patriot, and the anime series Haikyuu!! (Haikyuu!! Season 5 when!?).
In the future, the release date of Ultraman season 3 is scheduled for 2023. The company is also the producer of Attack On Titan season 4 part 3, although Studio MAPPA is still handling the animation.
The anime project Ao Ashi Season 1 was directed by director Akira Satou (Release the Spyce). Jun Soga (storyboarding for Jouran: The Princess of Snow and Blood) was the assistant director. Screenwriter Masahiro Yokotani (The Devil is a Part-Timer! Season 2, Re:ZERO) wrote the scripts.
The project involved many character designers, including Manabu Nakatake (High School DxD Hero), Toshie Kawamura (Bucchigire!), Asuka Yamaguchi (Noblesse) and Saki Hasegawa (My Hero Academia, Vinland Saga, Jujutsu Kaisen). Nakatake and Yamaguchi were also animation directors. Composer Masaru Yokoyama (Urusei Yatsura 2022, Classroom of the Elite Season 3) created the music.
The theme music for Ao Ashi Season 2 OP (opening) and ED (ending) has not yet been announced.
For the first season, Ao Ashi OP "Mushinhakusuu" was performed by Alexandros, while ED "Blue Diary" was performed by Rinne. The second part of Ao Ashi OP "Presence" was directed by Superfly, while the second ED "Color Lily no Koibumi" was directed by Kami wa Saikoro wo Furanai.
The first season of Ao Ashi was streamed from spring 2022 to summer 2022 with English subtitles on Crunchyroll, Netflix Japan and Disney+ international (not Netflix USA, Disney+ USA, VRV, HIDIVE, Hulu, Funimation or Amazon Prime Video). Disney+ only aired the episodes internationally in Southeast Asia, Hong Kong, South Korea, Indonesia, Malaysia, Thailand and Taiwan.
On August 6, 2022, it was announced that the release date of episode 19 of Ao Ashi was delayed to August 20, 2022. This delay is due to the Obon holiday.
The last episode of the first season, episode 24 of Ao Ashi, will be released on September 24, 2022.
All 24 episodes will be released as two Ao Ashi Blu-Ray/DVD on September 28, 2022 and December 21, 2022, respectively.
Ao Ashi Season 2 Release Date Predictions: Is late 2023 possible?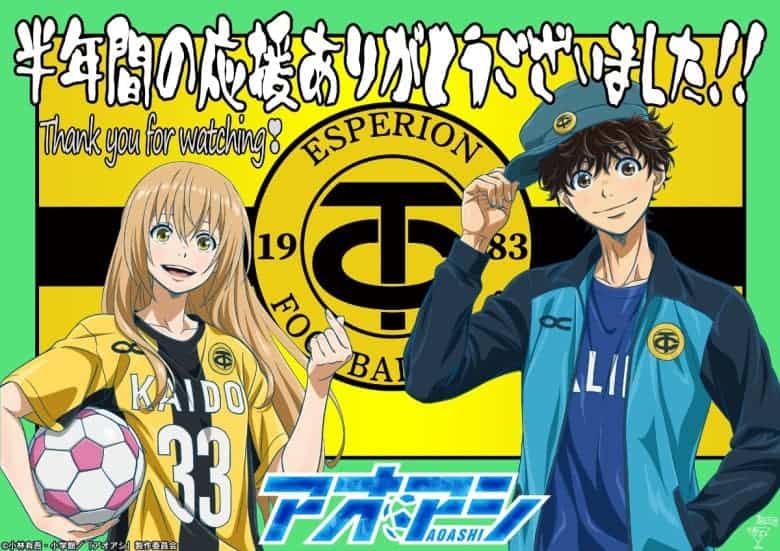 At the time of the last update, Studio Production I.G., Shueisha, NHK, Bandai or any other company related to the production of the anime has not officially confirmed the release date of Ao Ashi season 2. The production of a sequel to Ao Ashi Season 2 has not been announced either.
As soon as the news is officially confirmed, this article will be updated with the relevant information.
In the meantime, it is possible to speculate on when, or if, the release date of Ao Ashi Season 2 will take place in the future.
Reviews for Ao Ashi have been much higher than average for a team sports anime. Critics often compare Ao Ashi to the critically acclaimed anime series Haikyuu!
As for soccer-themed anime, recent examples include Farewell, My Dear Cramer, Futsal Boys!!!, and Shoot! Goal to the Future. None of these series have received good reviews. It will be interesting to see how Ao Ashi fares with the upcoming anime Blue Lock from Studio 8bit, which is best known for producing That Time I Got Reincarnated as a Slime.
From a financial perspective, the first season was consistently in the Top 10 of Crunchyroll's list of popular anime in Spring and Summer 2022, but it is not promised a renewal like SPY x FAMILY Part 2.
Another positive fact is that the broadcast of the anime gave a huge boost to the sales of Ao Ashi manga in Japan. In the spring of 2022, the manga series reached the Top 10 of Oricon manga for the first time: April (#10 with 231k copies sold), May (#7 with 267k copies sold), and June 2022 (#5 with 429k copies sold).
To put the sales figures in perspective, in February 2022, before the anime premiere, the manga had more than 10 million copies in circulation. In June 2022, the manga had sold more than 12 million copies. August 2022 there were more than 15 million copies in circulation.
Therefore, it is very likely that the anime production committee will renew Ao Ashi for a second season. They may even have secretly started the pre-production if they had predicted the popularity of this soccer anime.
The producers of Ao Ashi, Rui Kuroki and Morihiro Fumi, also worked on the anime series Haikyuu! Haikyuu! season 1 aired from April 2014 to September 2014. Haikyuu! season 2 followed from October 2015 to March 2016.
Assuming that the producers of Ao Ashi anime season 2 follow a similar pattern to Haikyuu!!!, it is possible that the release date of Ao Ashi season 2 will be late 2023.
The Ao Ashi Manga Compared to the Anime
The story of the anime TV series is based on the manga Ao Ashi by author/illustrator Yuugo Kobayashi and writer Naohiko Ueno.
Serialized in Shogakukan's Weekly Big Comic Spirits magazines since January 2015, the manga is on volume 29 of Ao Ashi as of August 30, 2022. By the summer of 2022, there were already more than 300 chapters published.
In July 2021, a spin-off series called Ao Ashi: Brother Foot (Aoashi Burazaofutto) was launched. This spin-off focuses on Shun, Ashito's brother.
Unfortunately, no publisher has announced an official translation of the Ao Ashi manga into English for North America. Fortunately, there are fan translation projects that have followed the last few chapters.
It is planned that the anime TV series Ao Ashi Season 2 will pick up the story in the manga Volume 12.
Since the project was produced by Production I.G., it is not surprising that the anime remained faithful to the source material. However, some dialogue was either condensed or deleted due to the time constraints of the episodic television format.
The only major change made by the anime was to cut a small scene from the manga where Ashito imagines himself being exploited by old perverts in Tokyo. There were also some minor adjustments here and there.
The pace of the anime adaptation was just about perfect. The first two episodes only covered six chapters and from there, episode 3 adapted 6.5 chapters.
The adaptation rate for the first season averaged 5 chapters per episode. Here is a guide of how the anime adapted the manga chapters.
Ao Ashi Episode 3: Chapters 7 – 13.5
Ao Ashi Episode 4: Chapters 13.5 – 19
Ao Ashi Episode 5: Chapters 20 – 22
Ao Ashi Episode 6: Chapters 23 – 27
Ao Ashi Episode 7: Chapters 27 – 32
Ao Ashi Episode 8: Chapters 33 – 37
Ao Ashi Episode 9: Chapters 38 – 42
Ao Ashi Episode 10: Chapters 43 – 46
Ao Ashi Episode 11: Chapters 47 – 51
Ao Ashi Episode 12: Chapters 52 – 56
Ao Ashi Episode 13: Chapters 57 – 62
Ao Ashi Episode 14: Chapters 62 – 66
Ao Ashi Episode 15: Chapters 67 – 70
Ao Ashi Episode 16: Chapters 71 – 74
Ao Ashi Episode 17: Chapters 75 – 79
Ao Ashi Episode 18: Chapters 80 – 83
Ao Ashi Episode 19: Chapters 84 – 88
Ao Ashi Episode 20: Chapters 89 – 92
Ao Ashi Episode 21: Chapters 93 – 98
Ao Ashi Episode 22: Chapters 99 – 105
Ao Ashi Episode 23: Chapters 105 – 111
Ao Ashi Episode 24: Chapters 111 – 117
All in all, as expected the first season finale, Ao Ashi Episode 24, found a stopping point corresponding to the end of Volume 12: Chapter 117.
This is the best stopping point since it corresponds to the continuation of the Tokyo Musashino vs Esperion B match. The revelation of Ashito's move to the A team is a major turning point in the story.
Chapters 116 and 117 of Ao Ashi offer a great celebratory atmosphere that is the best way to end the season despite the coach's warning that Ashito might be demoted. Also, the best scene to end with is when Hana kisses Ashito on the forehead after he confesses how much her support meant to him.
The last moments of the finale were almost original. They were inspired by the first pages of chapter 119.
The good news is that there is plenty of source material available to make Ao Ashi season 2. Only about a third of the chapters available in 2022 were adapted by the first season.
Even better, English-only manga readers can skip ahead to reading chapter 118 of Ao Ashi online.
Ao Ashi Season 2 Anime TV Spoilers (Plot Summary/Synopsis)
A new chapter has begun in the Tokyo Metropolitan League. Facing an undefeated opponent, Ashito doubted himself and Tachibana lost confidence… But now this opponent is overthrown by Ashito who scores a goal and proves himself as a playmaker… and he was promoted to Esperion A!
Ashito is joined in the A team by Ootomo, Kuroda and Togashi. Ashito believes that if he can be recognized here, he will get a contract signed with the top team immediately.
However, Ashito is warned that he must first refine his expectations of the A-League. While Ashito has big dreams, the Esperion A-team is known as the strongest for a reason and he fights every day!
But Togashi, Ootomo, and Kuroda are also struggling. It's all they can do to keep up with the high level of the A team. Ashito is able to make his mark in attack, but his defense is full of holes…
Although Ashito is shocked by the surprisingly high level of the competition, he is not discouraged and does his best to keep up with the pace… Through his hard work, Ashito eventually earns a spot on the bench in the next round of the Esperion A Premier League competition.
Will Ashito be able to realize his dreams?
Unfortunately, anime fans will have to wait for the release date of Ao Ashi Season 2 to find out what happens next. Stay tuned!