Gilead is a depressing, awful place to visit, so we're happy to bring fans of The Handmaid's Tale some good news for a change: the show is officially coming back for a fifth season! Even before season four kicked off, the cast confirmed the show's renewal back in December 2020. Let's check out about The Handmaid's Tale season 5 updates!
Chatting to The Hollywood Reporter, showrunner Bruce Miller said: "We are thrilled to be able to continue to tell these stories with our incredible cast and crew, and can't wait to be back on the air with season four next year."
But will this be the last season? In another interview with THR, Miller admitted that he "doesn't know" if season five will be its final outing:
In an interview for Deadline's Contenders TV virtual event, he expanded on that, saying: "I'm never looking to end it… The team made an incredible TV show, so I'm not so quick to say, 'Oh, you know, let's just walk away.'
Jordan Helman, head of scripted originals at Hulu, told Deadline that closing out the show in "creative fashion that feels organic" is of the utmost importance. "We haven't landed on an answer," he added. "I imagine we're going to be able to answer that question in the coming months."
And it sounds like the answer might involve a spin-off series focused on Margaret Atwood's recent source material.
However, since then it's been confirmed that a season six is also in progress – so maybe there is more traumatic, bleak-futured life in the tale yet.
In the meantime, let's take a closer look at what's in store for The Handmaid's Tale season five.
The Handmaid's Tale Season 5 Release Date
The wait is almost over for season 5 of The Handmaid's Tale.
A first look was teased by the popular Hulu show, along with its release date. A two-episode premiere will start on Wednesday, September 14 on Hulu, with episodes following weekly.
No release date has been set for the UK yet, but it's expected to air on Channel 4 shortly after.
New pictures show June dressed in white looking up, while in contrast Serena was looking down and smiling while dressed in a black veil.
The end of season 4 saw the demise of Commander Fred Waterford, who was savagely murdered by June and her fellow former Handmaids.
They sent his finger to pregnant wife Serena, who was granted freedom in Canada.
Elisabeth Moss, who plays June, recently hinted at what to expect in the upcoming season.
"I will say that the season itself is possibly one of the wilder rides that we've had," she said. "Some seasons a lot happens, some seasons not as much happens. This season, I almost can't keep up."
She added: "And it's not lip service. I truly mean I almost can't keep up with the amount of activity that's happening.
"So that's been exciting, and it's been challenging of course, because it means we're working really hard, and we're on location a lot. But never a dull moment is the way I would say it."
One big difference in the upcoming series will be the lack of Emily, with Alexis Bledel deciding to leave her role.
"After much thought, I felt I had to step away from The Handmaid's Tale at this time," she explained.
"I am forever grateful to Bruce Miller for writing such truthful and resonant scenes for Emily, and to Hulu, MGM, the cast and crew for their support."
The Handmaid's Tale season 5 cast: Who Will Be In It?
Gilead is not exactly the safest place to be, and even though June has now escaped to Canada, that doesn't mean every character is suddenly protected from harm.
But assuming that most of the major players do return, it looks like the following will all appear in The Handmaid's Tale season 5:
• Elisabeth Moss as June Osborne
• Yvonne Strahovski as Serena Joy Waterford
• Alexis Bledel as Emily
• Madeline Brewer as Janine
• Ann Dowd as Aunt Lydia
• O-T Fagbenle as Luke
• Max Minghella as Nick
• Samira Wiley as Moira
• Bradley Whitford as Commander Lawrence
• Amanda Brugel as Rita
Added to the Handmaid roster is Hawaii Five-0 star Christine Ko.
Christine Ko – who also stars in the comedy series Dave – will be taking on the recurring role of Lily. No doubt Lily is set to add to the tension of the show as she's been described as "a gritty, resourceful Gilead refugee who is now a leader in the resistance movement."
Speaking to Entertainment Weekly, showrunner Bruce Miller explained that we'll "certainly I think we'll see Fred again. I mean, I would die if I didn't see Joe [Fiennes] again".
Chatting to TVLine about whether Serena will suspect June was responsible for her husband's death, Strahovski said: "Yes. I feel like she'll know in her heart. They know each other so well, I can't imagine that not crossing her mind… I can imagine June purposely telling Serena about it because she wants Serena to live in absolute fear, if and when she gets out of the detention centre. I mean, could you imagine?
The Handmaid's Tale Season 5 Plot: What Will Happen?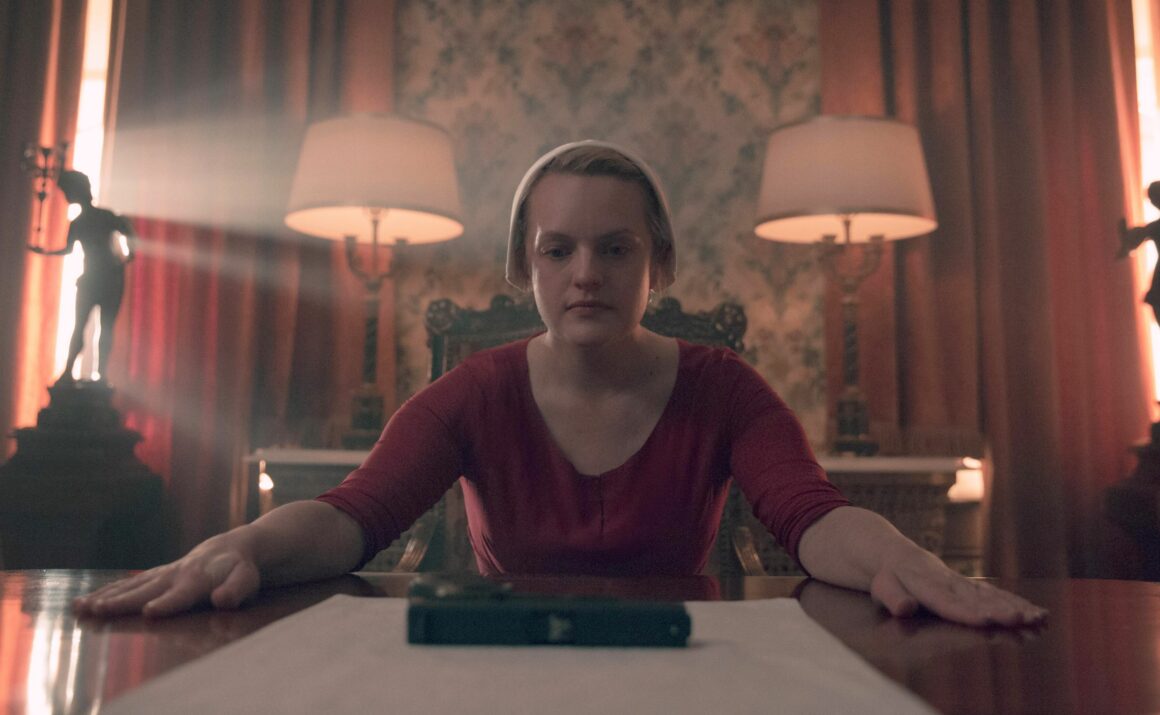 When the series first launched, Margaret Atwood – the author who penned The Handmaid's Tale – explained:
"When it first came out it was viewed as being far-fetched. However, when I wrote it I was making sure I wasn't putting anything into it that humans had not already done somewhere at some time." (As reported by The Guardian).
Plot specifics are hard to come by right now, although it's safe to say that The Handmaid's Tale will continue to explore June's trauma following her escape from Gilead to Canada.
Ann Dowd, who plays Aunt Lydia, has already promised something explosive in the opening episodes of the season.
"I've read the first couple of episodes and all I can say is they're so good. I just didn't see any of this stuff coming. To be able to get to season five and you're thinking, 'What?!'" she told The Independent.
She clarified: "Not in an outlandish way where you're thinking, 'Wait a minute, how could that happen?' It's like: '[gasps] that is fantastic.' It's really good.
Dowd added: "There's stuff that happens that's like, 'Woah, woah, woah.'"
Dowd is not the only one making promises of an exciting season five return. In an interview with TV Line the show's lead, Moss, has assured fans the next season will deliver on the action.
"I will say that the season itself is possibly one of the wilder rides that we've had," said June's Moss.
"We've definitely had some seasons [where], you know, a lot happens. Some seasons, not as much happens."
"I almost can't keep up with what happens in the upcoming episodes," she continued, "and it's not lip service. I truly mean I almost can't keep up with the amount of activity that's happening."
Moss confirmed (as reported byStylist), that the cast have been putting in the hours to create this explosive new season. "It's been challenging of course, because it means we're working really hard, and we're on location a lot. But never a dull moment is the way I would say it."
Moss remained tight-lipped about the rest of the details but there has been more teasing from the cast.
Appearing on chat show The View in March 2022, Samira Wiley, who plays Moira, teased how the series will start off and said: "We're picking up, really exactly where we left off. Everyone who saw the season finale knows what happened with Commander Waterford. And so June, as always, is in a little bit of trouble."
Noting June's successful move to Canada, Samira teased trouble ahead and added: "She has resources around her now that she hasn't had before living in Gilead. So, we'll see how that will play out. How June can fight Gilead from within Canada and the help of her friends."
But will the often divisive torture-porn aesthetic remain?
Speaking to Digital Spy last year, Amanda Brugel, who plays Rita, addressed the controversy: "I really think the only way to make an impact is to make people uncomfortable. Not so uncomfortable that they turn away, but that it hits a nerve in order to make people stand up and pay attention."
And she also foreshadowed the intensity we might expect from the show in season five. "I think it's important to show that we're not even close to being done with our journey, especially towards violence against women, misogyny, and there being equity between the genders," she said.
But whether the show has time to explore everything it wants to depends on whether it even continues beyond season five. Miller has previously stated that The Handmaid's Tale will "keep going" as long as Elisabeth Moss remains involved.
"There's a lot of life in this story," he told Deadline. "I'm certainly fascinated by what happens in The Testaments and if that's going to be part of our future."